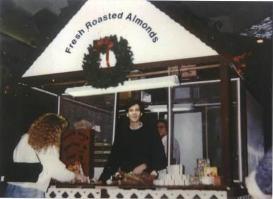 Nuts are Good! Inc. started in 1988 as Fresh Roasted Almond Company, a tiny retail roaster in the middle of a mall in Grand Rapids, Michigan. Lifelong Metro Detroiters, we are two brothers, Danny and Jonny Levy, who love the fresh market. Ever since we were kids we spent part of our weekend down at Detroit's Eastern Market, walking, shopping, and out to see what's new. There is just nothing like a street market experience, and we aim to bring you a bit of the excitement of an open air city market, packed full of fresh foods direct from the farmers, bakers, roasters, and importers (us being the bakers, roasters, and importers).
A Little Bit More About Us
We're the oldest wholesale manufacturer of cinnamon almonds in the USA.

Nuts are good for you, and we're proud to make snacks with health benefits.

We figured out how to dry roast in big kettle batches. Dry roasting (as opposed to oil roasting) helps extend the freshness and shelf life of nuts, and bigger batches mean a better value for our customers.

We invented Buffalo Peanuts and Buffalo Cashew Crunch.

Our customers keep coming back. We've been roasting snacks for a long time and still have many of our original customers.
We Also Bake
We bake granola and sesame sticks and, of course dry roasted nuts and seeds. You can find a whole line of all natural snacks and mixes here. Available by the pound or by the case. And it is all 100% guaranteed fresh!
Get Chocolaty Panned Items Here
In big pans, we coat with non-dairy chocolaty and white confectioners coatings. Items like nuts and raisins and cranberries, and always more nuts- dry roasted almonds, peanuts, and pecans. We even chocolaty coat our famous cinnamon pecans and maple peanuts.
Extracted Products
You will not believe it until you try them. Use as drizzle, marinade, on desserts, savory dishes, dressings, baking, sweeteners, etc. We make honey (syrup) from dates, raisins, apricots, and prunes.